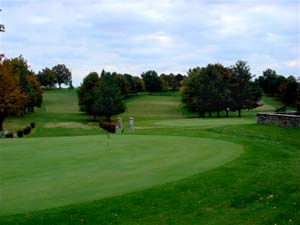 The course opened in 1916 when D. L. Pendleton, Sr. made the tract of land now known as the Winchester Country Club available for golf for both he and his friends. The club opened as a nine hole facility and remained that way for over fifty years. It expanded to its current 18 hole layout in 1969 and added a driving range practice facility in the late 1990's. The course's latest renovation project occurred in 2006 with the installation of a new fairway irrigation system and a fairway conversion from a combination of ryes and bluegrasses to Riviera Bermuda grass.
The course is deceptively challenging for all. What it apparently lacks in distance, it makes up for with narrow, undulating fairways, trees and more trees, and tricky greens.
Every year we host the longest running match play event in Kentucky. Next year's version of the tradition rich Winchester Memorial Weekend Match Play Championship, May 25-27, 2019, will be the 83rd, and will draw participants from as far away as Texas, Florida, Louisiana and California.
| | | | | | | | | | | |
| --- | --- | --- | --- | --- | --- | --- | --- | --- | --- | --- |
| Hole | 1 | 2 | 3 | 4 | 5 | 6 | 7 | 8 | 9 | Out |
| Men's Back Tees | 310 | 464 | 523 | 347 | 380 | 326 | 141 | 378 | 350 | 3219 |
| Men's Middle Tees | 293 | 447 | 430 | 340 | 371 | 322 | 128 | 368 | 347 | 3046 |
| Men's Par | 4 | 5 | 5 | 4 | 4 | 4 | 3 | 4 | 4 | 37 |
| Men's Handicap | 11 | 5 | 3 | 13 | 1 | 15 | 17 | 7 | 9 | |
| Ladies' Handicap | 15 | 1 | 3 | 11 | 5 | 13 | 17 | 7 | 9 | |
| Ladies' Par | 4 | 5 | 4 | 4 | 4 | 4 | 3 | 4 | 4 | 36 |
| Ladies' Tees | 262 | 421 | 330 | 325 | 297 | 315 | 102 | 299 | 308 | 2659 |
| | | | | | | | | | | | |
| --- | --- | --- | --- | --- | --- | --- | --- | --- | --- | --- | --- |
| Hole | 10 | 11 | 12 | 13 | 14 | 15 | 16 | 17 | 18 | In | Tot |
| Men's Back Tees | 341 | 157 | 495 | 202 | 288 | 360 | 391 | 402 | 341 | 2977 | 6196 |
| Men's Middle Tees | 335 | 151 | 407 | 182 | 276 | 346 | 367 | 391 | 332 | 2787 | 5833 |
| Men's Par | 4 | 3 | 5 | 3 | 4 | 4 | 4 | 4 | 4 | 35 | 72 |
| Men's Handicap | 12 | 18 | 2 | 16 | 14 | 8 | 6 | 4 | 10 | | |
| Ladies' Handicap | 14 | 16 | 6 | 18 | 12 | 2 | 8 | 4 | 10 | | |
| Ladies' Par | 4 | 3 | 4 | 3 | 4 | 4 | 4 | 5 | 4 | 35 | 71 |
| Ladies' Tees | 255 | 140 | 303 | 131 | 248 | 331 | 337 | 382 | 292 | 2419 | 5078 |